---
Glass pebble fridge magnets
Glass bead fridge magnets
Bead or pebble fridge magnets are generally used by scrapbookers and crafters to make beautiful homemade fridge magnets.
The glass beads are available from craft shops as well as from online stores. They are sold With Neodynium disk magnets that have an adhesive backing. Special glue is used to apply the printed picture to the glass bead, the magnet disk is then stuck onto the picture and the end result is a cute glass pebble magnet.
Any pictures or printed material can be used to make into a stunning fridge magnet.
Here is an example of using glass beads to make antique look typewriter keys for your fridge.
Check out Pinterest for so many more stunning glass bead fridge magnet ideas.
https://za.pinterest.com/explore/glass-magnets/?lp=true
---
Die cut fridge magnet shapes
Fridge magnet shapes
By making fridge magnets shapes the effectiveness is increased dramatically!  For example, making a magnet look like a light bulb subconscious relates to an electrician in the viewers mind.   There is a constant subtle reminder of what that magnet is for.
Doctors fridge magnet
---
Another example of shaped fridge magnets is to use a cross design to show that the information is medical related.
---

Industry relevant fridge magnets
Concrete block fridge magnet
Fridge magnets become extremely relevant when they are used in clever ways. Take this concrete block fridge magnet, this would be ideal advertising for:
Architects
Building companies
Brick companies
Quantity surveyor companies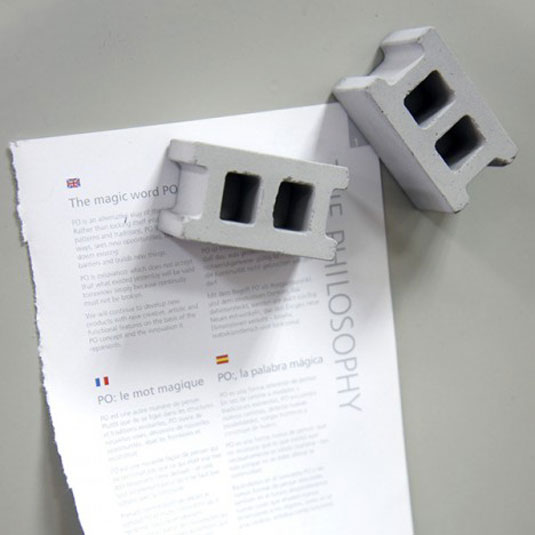 ---
Industry safety fridge magnets
By using fridge magnets in the workplace they could assist in safety training. A magnet on the fridge at a building site would be a unique reminder to staff.
---
Stunning fridge magnet for plumbers
We recently developed fridge magnets that look like toilet plungers. We thought this would make the most wonderful marketing tool for plumbers. Each time they visit a client they can leave their business card attached the the clients fridge for future reference.
Relevant promotional items
When you choose a promotional item it should be relevant to your industry in creative or unique ways. This way the recipient will pay more attention to the item. The recipient would even feel inclined to show friends or mention it in conversation.
Giving away a gift must make an impact and in turn result in a good impression plus top of mind awareness. A well thought out promotional item will result in superior brand awareness and recognition.
---
Fridge Magnet marketing – An effective marketing tool
A fridge magnet marketing campaign could be viewed up to 21 million times a year? Consider this for a moment:
A family of four could potentially see your advert over 4000 times a year. Here's how, lets assume each member of the family opens the fridge 3 times a day.
4 people x 3 views = 12 views per day
12 views per day x 365 days = 4380 views per year.
Now if you gave away 10 000 fridge magnets and only 50% of the recipients place it on the fridge, 5000 x 4380 views per year equals a whopping 21 million views per year.
By using a fridge magnet that is clever and attractive you could achieve far more and a 50% usage rate.